Background Plates
We also have an
assortment of 3 minute lock-down Pompeii and Herculaneum background plates for use with ChromaKey and Green Screen Compositing.
These 1080i High Def Background Plates can also be converted to standard definition 16x9 and even cropped to 4x3.
In addition, we also have numerous 1080i HD Background Plates of sites in Paris, Rome, the Amalfi Coast, the isle of Capri, the Vatican, London, New York City, Boston, Hollywood, Maine, Florida, and Hawaii. More…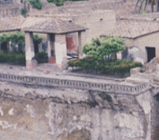 Welcome to Pompeii Stock Footage!
We have extensive NTSC 1080i High Definition Stock Footge of Pompeii and Herculaneum. We have day coverage of the typical shots you might need of Pompeii and Herculaneum - shots include:
the Palaestra
the Amphitheatre
Via Dell'Abbondanza
the Stabian Baths
the Large Theater
the Odeon
the Theatre Quadriporticus
the Temple of Isis
the Civil Forum
the Basilica
the Temple of Apollo
the House of the Mysteries
the Nola Gate
the Necropolis
plus other sites in and around Pompeii and Herculaneum.
We also have extensive Steadicam POV footage shot in Pompeii.
VITA Digital Productions
was the creator of this video footage and owns the copyright thereto. We license our footage on a per-use basis. Pricing is dependent upon use, term of license, and types of media covered. We do offer a "Worldwide, all media, in perpetuity" license along with more limited licensing. Please contact us and tell us how you plan to use the footage for a quote.
And we offer fast turnaround! Contact Us